Contract Engineering Organization
Contract Engineering Organization

CEO | Contract Engineering Organization
Bio production facility design and customized customization service through expertise in bio engineering technology
Prestige Biologics has built four bio-production facilities through ALITA Smart BioFactory technology. We have our own engineering technology to support the dynamic biopharmaceutical technology platform, and we are constantly researching engineering models that can flexibly respond to diversified customer needs.

Rapidly changing pharmaceutical environments present enormous challenges in accurately forecasting demand.
Prestige Biologics customizes facilities and equipment to meet the needs so that it can quickly respond to the various needs of the market and customers.
Optimization of related equipment and facilities, such as DS and DP, bioreactor, chromatography, filling and finishing, and packaging technology
Build custom manufacturing suites to focus on your products through ALITA Smart BioFactory™ technology that pursues continuous innovation
commissioned engineering | CEO
Productivity improvement + efficiency improvement + automation development
Continuous engineering innovation to optimize biopharmaceutical production
We have established production facilities that can flexibly respond to the diversified needs of customers.
Continuous process optimization through ALITA Smart BioFactory™ technology.
Optimize production processes and quickly establish custom production facilities for customers.
Consulting & Design Service
Provision of bio plant consulting/design services
Optimal engineering consulting and design
Prestige Biologics directly conducts consulting and design of production facilities suitable for pharmaceuticals, from conceptual design to detailed design. We have simultaneously successfully carried out the construction and engineering design of four bio-production plants within the two campuses established by Prestige Biologics. Currently, we are conducting research on bioprocess engineering technology for the main facilities of four CDMO bio plants, and applying the improved technological results to the actual biopharmaceutical production process.
Campus I : Pioneer(Plant 1), Frontier(Plant 2)
Since Campus 1's process and factory design were carried out on its own, it was possible to simplify the manufacturing process and shorten the construction days by minimizing interference between equipment and facilities.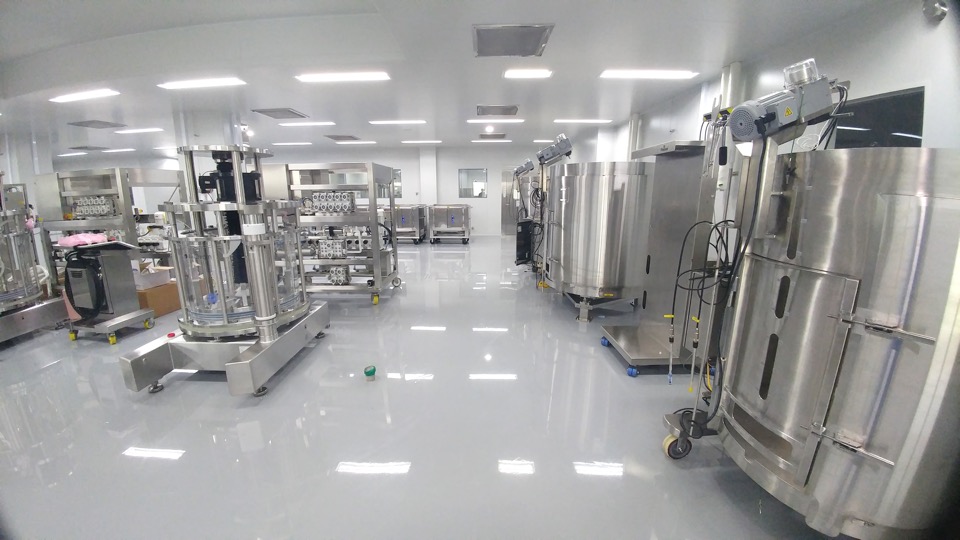 Campus Ⅱ : Voyager(Plant 3), Adventure(Plant 4)
Campus 2 is a manufacturing plant with a new concept called the ALITA As a CDEMO, As the first CDEMO company to provide services to the engineering sector, we present a new paradigm in pharmaceutical manufacturing.
Build production process equipment and design infrastructure
From the process development (PD) stage onwards, our engineering team helps optimize production processes and production facilities.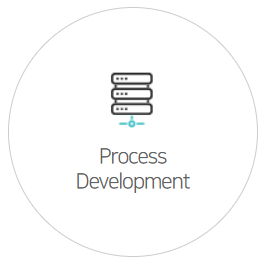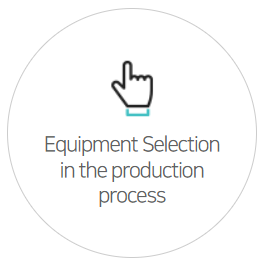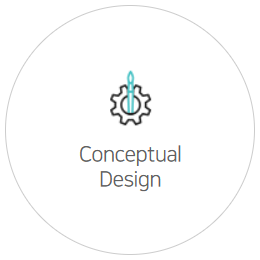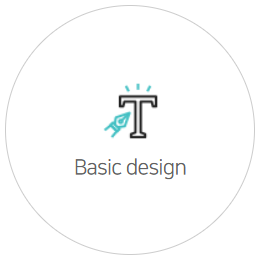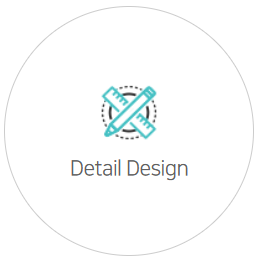 Construction of biopharmaceutical production facilities
Optimized construction scheduling
Prestige Biologics directly performed everything from conceptual design to validation. Construction of IO pharmaceutical production facility nProduction process equipment warehousing and validation are in progress at the same time.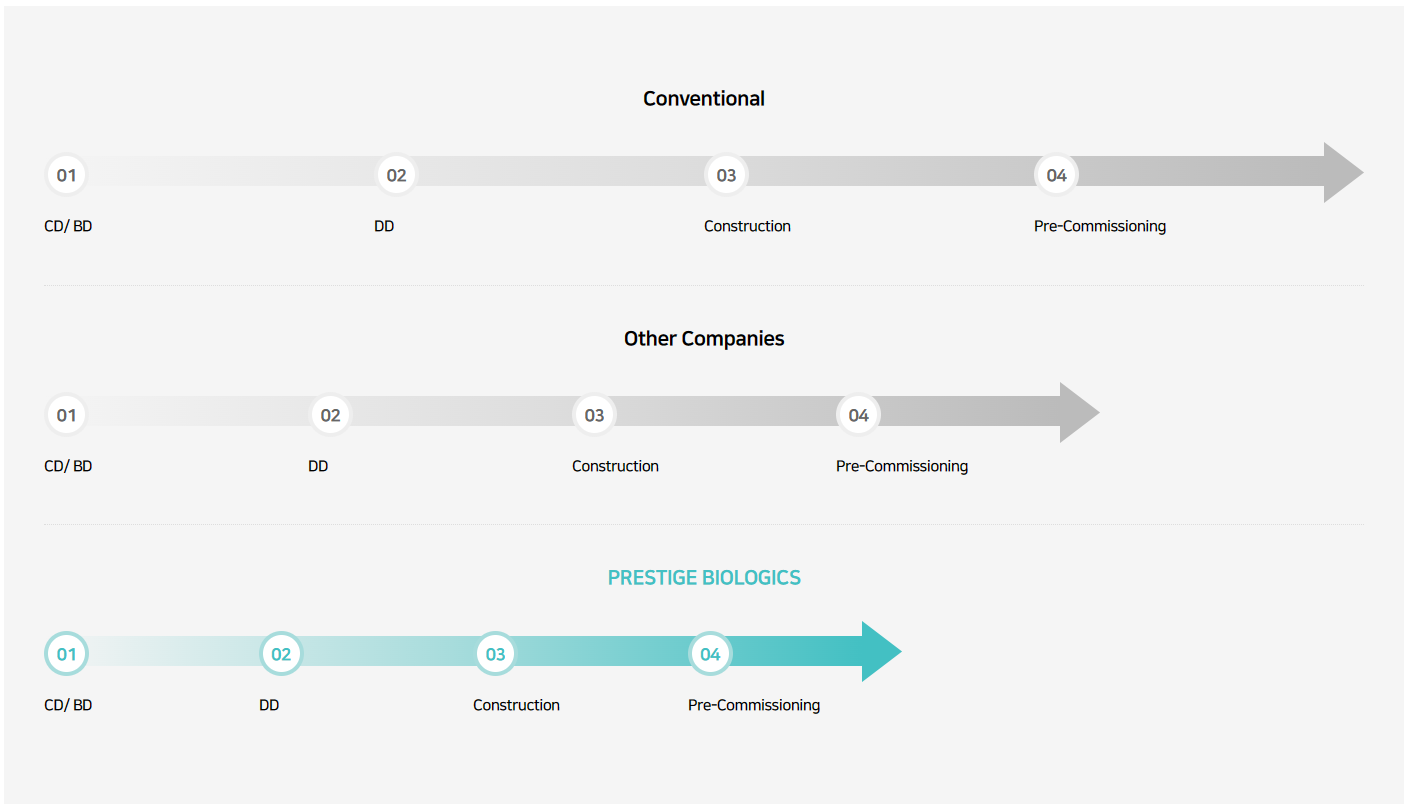 Open-door Policy for customer
Prestige Biologics is committed to fostering close collaboration through transparent information sharing in order to provide customer-centric services. We adopt an open-door policy to swiftly address key issues that arise during development and production, and we fulfill the role of a partner to successfully achieve shared goals.
Through our customer service objective of "Growth through Openness," we believe that we will develop advanced technology and fulfill our mission to contribute to the lives of patients.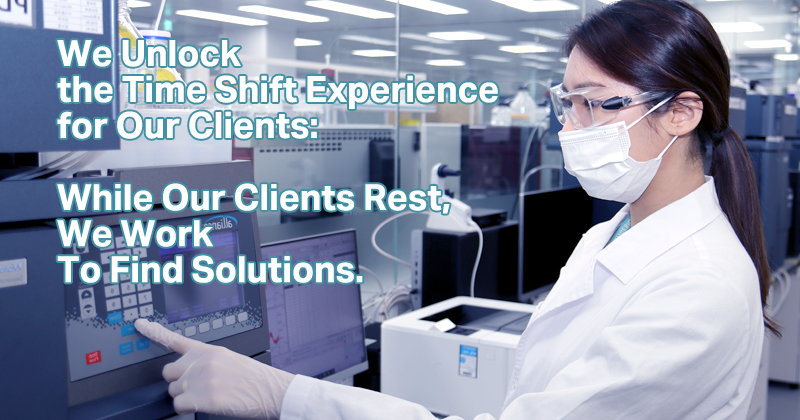 From clinical development to commercial production
Prestige Biologics provides various services such as analysis service, clinical development, clinical sample production, clinical secondary packaging (double-blind packaging), process development, and commercial production. We respond flexibly to the needs of customers of various needs, such as CDO, CPO, CMO, and CEO. We are also always open to partnerships that develop potential.