ALITA Smart BioFactory™
We offer ALITA Smart BioFactory with Prestige Biologics' own hybrid manufacturing technology. We provide customized global research/development, engineering, production, and regulatory support services.
Innovative Engineering Process Development
High Flexibility and Rapid Changeover between Products
ALITA Smart BioFactory™ technology is a technology brand based on bioprocess engineering patented technology that Prestige Biologics applies to its 1, 2, 3, and 4 factories at various levels. It is an innovative production technology that is flexible and implementable, continuously researching and introducing innovative production technologies to the production site, and is a "growing innovative technology model" even now.
ALITA Smart BioFactory™ is a future-oriented engineering model that injects new imagination into bio-manufacturing processes, under the goal of contributing to innovation that can be realized, innovation that can be implemented in the field, and innovation that can support successful production and delivery of customers' biopharmaceuticals.
To support the successful production and delivery of customers' biopharmaceuticals, Prestige Biologics has been predicting and modeling improved engineering technology from an engineering perspective, and applying it to its actual production sites. By repeating this challenging innovation process, we will be able to respond more quickly and rationally to the future demands of the changing CDMO market.
ALITA Smart BioFactory™ technology is the "innovative DNA" for continuing Prestige Biologics' mission of "Innovation for Life." Supporting the belief that the sustainability of a technology company is achieved through continuous innovation of technology, it is part of our innovative effort.
Scale-up & Scale-out for optimizing the efficeiency
Implementing Powerful Flexibility through Scale-Out
Prestige Biologics is building an ecosystem for the production technology of biopharmaceuticals through changes, improvements, and innovations in process and engineering technology. Unlike traditional pharmaceutical and biopharmaceutical production technology that used 10,000 liter or larger bioreactor and tank facilities to maximize economic efficiency, Prestige Bioligics has strategically set 2,000 liter bioreactors as the optimal environment for producing antibodies, recombinant proteins and biosimilars.
Therefore, while conventional technologies have faced challenges of using significant time, costs, and labor to repeatedly scale-up to reach the desired commercial batch capacity, Prestige Biologics can prepare for commercial production through scale-up to 2,000 L. After completing the scale-up study up to 2,000 L, <Scale-Out Technology>, which repeats and connects 2,000 liters of bioreactors, can be applied to support the flexible commercial production capacity as required by customers.
In addition, Prestige Biologics established bio-manufacturing plants, which are optimized for single-use bioreactor systems by introducing single-use systems from the initial plant design. Prestige Biologics' bio-manufacturing facilities are specialized in technology that optimizes flexibility and productivity to provide customers with maximum efficiency. Our plants can respond to changes in demand for biopharmaceuticals, which are gradually undergoing downsizing and diversification, by changing or adding capacity and production systems at any time. This demonstrates the potential of the Modular ALITA Smart BioFactory™ technology concept. The most simplified biopharmaceutical manufacturing system engineering-wise can relatively flexibly respond to changes.
Prestige Biologics' accumulated "scale-out technology and experience" is presenting a model of the future industry that can most flexibly respond to global demand for biopharmaceuticals and implementing it in actual manufacturing sites. Innovative DNA of Prestige Biologics is "innovation that is socially contributive," "innovation that is feasible," and "innovation that is visible." Scale-out technology is an implementable technology that proves the innovation efforts of Prestige Biologics in actual manufacturing sites and contributes socially.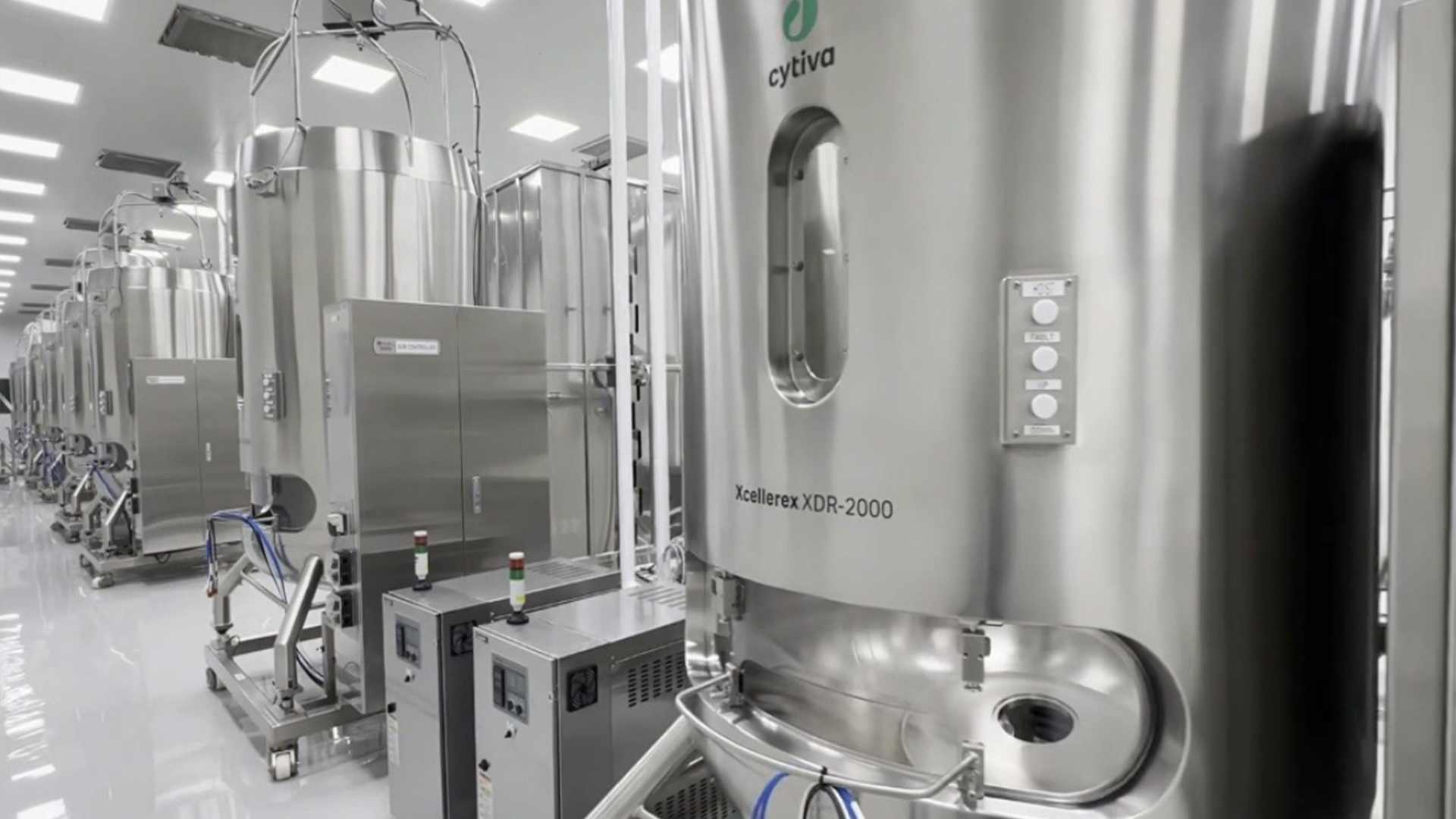 Example of ALITA Smart BioFactory's Feasible Innovation
Expansion through efficient connection and flexible relocation of upstream and downstream processes
ALITA Smart BioFactory™ technology is applied to the 1st, 2nd, 3rd, and 4th bio-manufacturing plants of Prestige Biologics according to the purpose of each bio-manufacturing facility. For example, Plant 4 has ALITA Smart BioFactory™ technology applied in a hybrid system, and it is a bio-manufacturing facility where ALITA Smart BioFactory™ technology is applied at the highest level to date.
In Plant 4, the upstream process (USP) consists of a single-use bioreactor and the downstream process (DSP) consists of a stainless steel tank, applying a hybrid system that employs all the advantages of each bio-manufactruring process. The hybrid system is part of Alita Smart Biofactory's various technology models, and it was applied to the technical purpose that Plant 4 needs to support customers.
Through the patent on the Aseptic Connection System (aseptic connection system) and 8 other patents, it is applied to the engineering design of actual bio-manufacturing facilities to prevent cross-contamination and carryover that may occur between processes. Prestige Biologics is building an environment where major risks are strictly controlled.
Flexible UPS+DSP connection model to maximize equipment operation rate + minimize process changeover time and process time (picture below)
[Productivity Optimization Model]

Features of PLANT 4 : Hybrid Bio-factory
Location

799 Jeongjung Ri, Osong,

Cheong -Ju , Korea

Site Area (Campus II)

24,991.50 m2

Building Area

8,179.44 m2

Floor Area

24,790,31 m2

Phase 1 only

Floors

6 Floors

Structure

Steel Reinforced Concrete

Main Capacity

32,000L

Phase 1 only

Upstream/Downstream

SUB + Hybrid/ Hybrid

ALITA

Plant 4 is located in the 2nd campus of Prestige Biologics applies the ALITA Smart BioFactory technology as shown in the picture above.
① The basic connection method between Upstream Process (USP) and Downstream Process (DSP) (left side of the figure)
: The suites on the highest-level are connected USP and DSP horizontally.
: Within the same floor, the suites are horizontally connected by USP and DSP in an aseptic manner.
: DSPs of each floors enable to be connected vertically, allowing the DSP located in the upper layer to be connected flexibly to the DSP of the lower layer, so that the bottleneck between the moving to the DSP process and the DSP processing capacity can be rapidly expanded.
② An example of how to connect DSPs flexibly according to the USP level (right side of the figure)
: In the suite on the top floor, not only one USP process is connected horizontally, but additional connections are made to the DSP process suites on the lower floor according to the customer's request. This highly flexible DSP scaling method solves bottlenecks in the DSP process.
: As shown in the figure, the Suite 2 level can be flexibly expanded with twice the DSP processing power by connecting from the USP2 process to DSP2 + DSP3.
Innovation for better productivity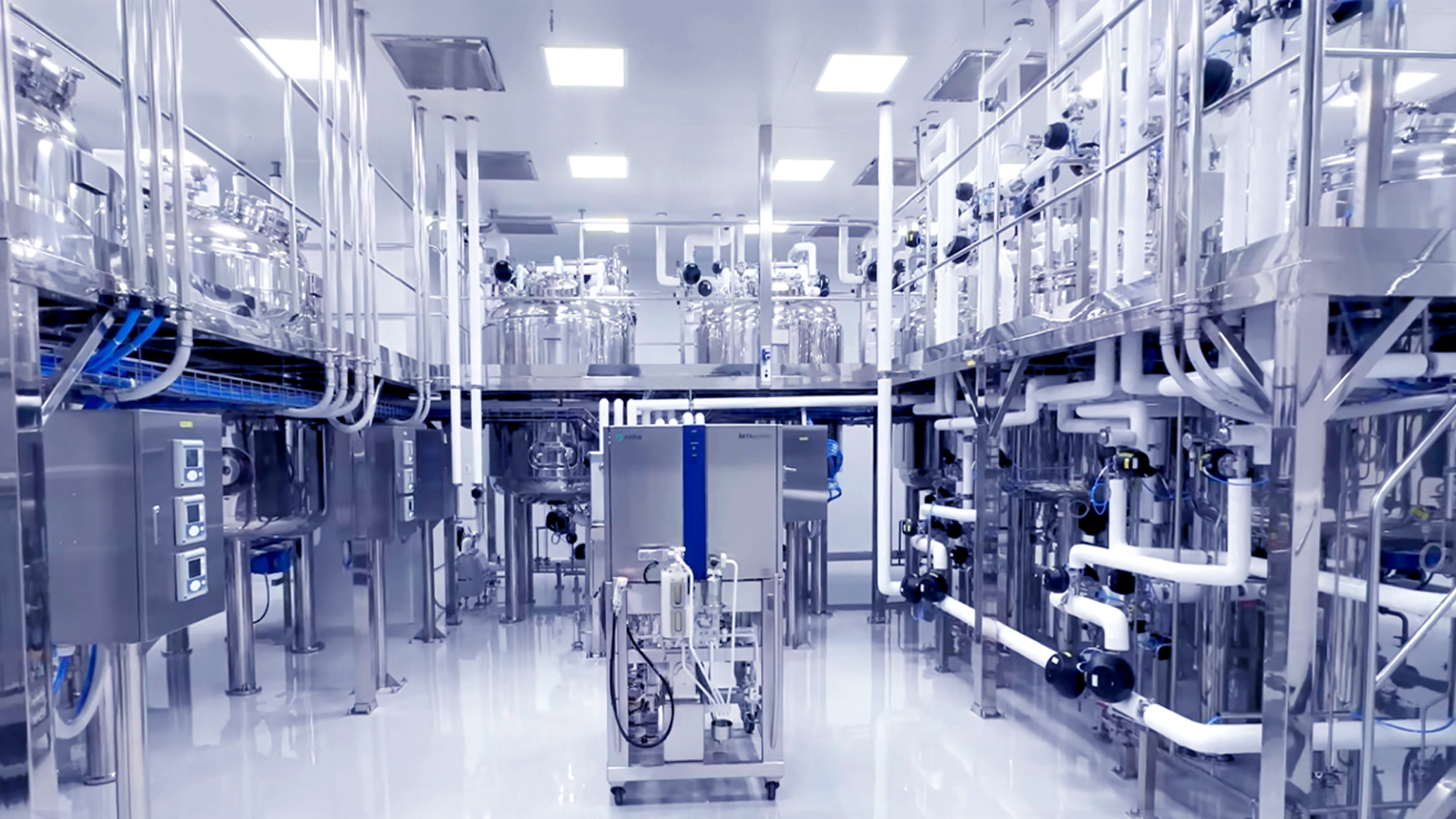 Productivity
Productivity improvement through maximization of equipment operation rate
Productivity improvement by minimizing changeover time between products and process time.
Innovation for better flexibility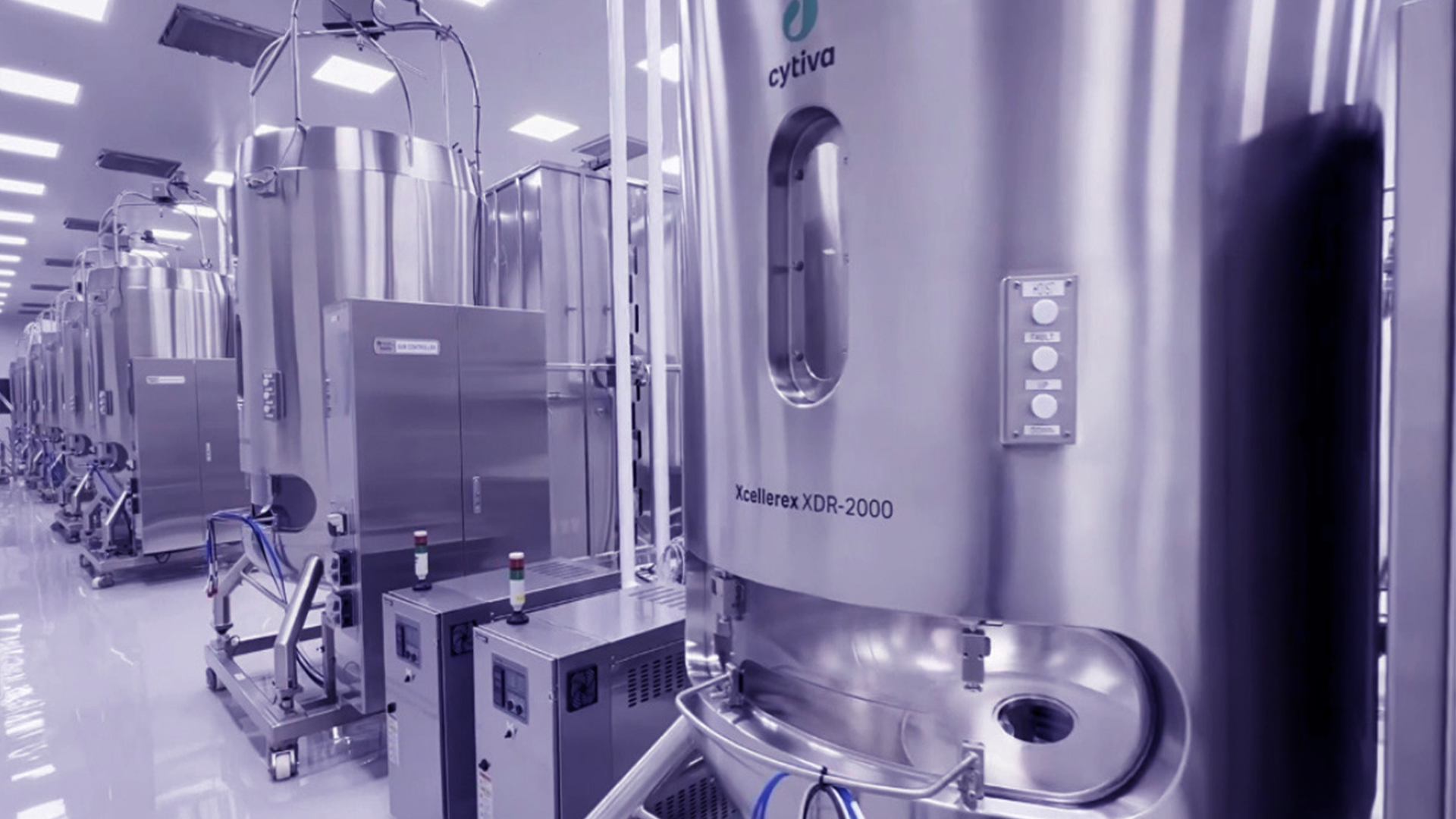 Flexibility
Provides flexible process design that can be applied to the customer's complex process needs.
Production facility design that enables a multivariate combination of upstream process and downstream process.
Innovation for better effectiveness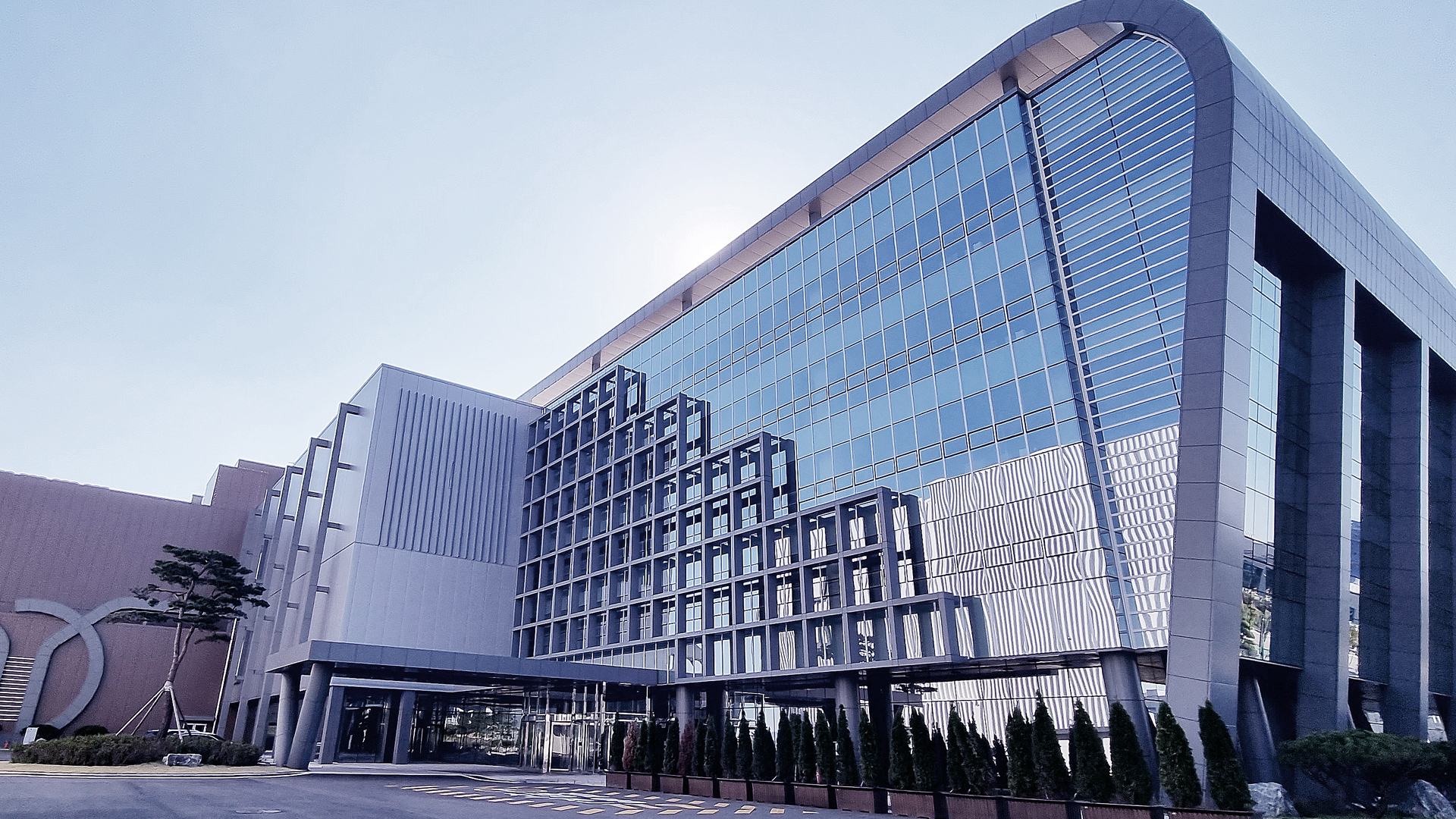 Effectiveness
Engineering design that can expect cost reduction of consumables compared to existing general single-use production facilities.
Engineering design that can reduce operating costs compared to stainless steel-based production facilities.
Hybrid system through combined use of stainless steel and single use
(1) Core components: grouping core equipment for easy replacement
Upstream
Downstream
Single-use bioreactor
Column Chromatography (CC) skid
Tangential Flow Filtration (TFF) skid
(2) Body components: Maximize transfer efficiency to the next process by installing around core equipment
Upstream & Downstream
Stainless Steel tank / Stainless Steel piping
CIP(Clean In Place) / SIP(Sterilisation In Place) unit
Upstream patented technology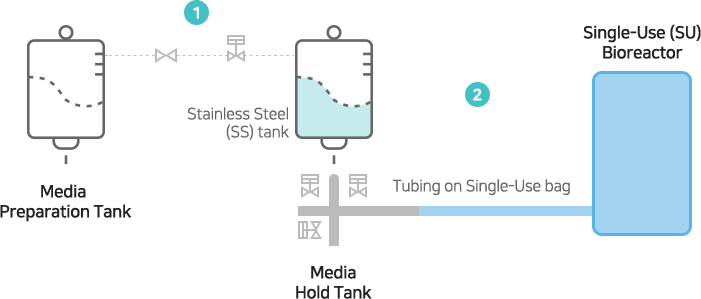 [Patent Content]
In-Situ Automatic Filter: Wetting, SIP, Integrity Tester include
Aseptic Connection: Aseptic connection between stainless steel and disposable tubing
Downstream patent technology
Component-based buffer preparation system using programmable logic controller (PLC)
An engineering model that efficiently limits the number of buffers used in the downstream process and reduces process productivity and worker labor with an automatic supply system using PLC.
① Reduction of processing time and labor
② Minimize the use of buffer preparation tanks
③ CIP cost reduction
Downstream Patent Technology table guide to the Downstream Patent Technology

From clinical development to commercial production
Prestige Biologics provides various services such as analysis service, clinical development, clinical sample production, clinical secondary packaging (double-blind packaging), process development, and commercial production. We respond flexibly to the client's various needs, such as CDO, CPO, CMO, and CEO. We are always open to connect.